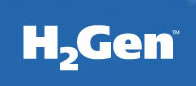 H2Gen Innovations has developed and is selling a new, compact hydrogen generation system for industrial and transportation applications. The company's proprietary technology produces high purity hydrogen on-site from natural gas at competitive prices. The company has also developed a gas recycling system which allows its industrial customers to re-use expensive hydrogen.
Location: Alexandria, Virginia
Commons Capital's co-investors include:
Arete Corporation, Nth Power, Hydrogenica Partners, Chrysalix Energy, Sempra, Fursa Alternative Strategies and Air Products & Chemicals, Inc.
Website: www.h2gen.com